Tickets for the May 12th Fishing Derby are available now.  Contact Lou @ 793-8556
Important Membership information:
This letter and renewal form is for anyone who did not submit their renewal application for 2018.    NYCRGC Club Letter < Please click to open and print.
Once again, the club had a table at the Acton Fair,  many thanks to those who manned the table, and sold tickets.   The talking fish was a hit again this year. 
A couple of members recently spent some time cleaning the range.  Please remember to take out anything you bring in.  Be respectful of other members, and help keep the club clean.
Pictures from recent Hunter's Safety Class at the club:
Dave D teaching map and compass reading
Club Meetings
First Friday of every month 7:30 PM at the Club House
NYCRGC, Lewis Hill Road, PO Box 186, West Newfield, Maine 04095
Questions? Please call:
President Lou Polianites at: 793-8556
or
Sylvie Lamontagne  207-247-3053

Some of the activities we offer:The purpose of the Northern York County Rod and Gun Club is to promote the propagation and conservation of fish and game, to protect the same by prevention of pollution in the lakes and streams of the State of Maine to encourage outdoor recreation, to teach proper firearm safety, to instruct novices in the art of fishing and handling of boats and canoes, and to propose legislation conductive to the best interests of fishing and hunting in the State of Maine
Youth activities, open water fishing derbies, skeet shooting, youth shoot, hunter safety classes, ice fishing derbies
Community Involvement
Holiday food baskets,  Christmas toy collections, Acton Fair, Conservation Camp Scholarships, building rental/usage
Annual Events
Auction * Pig Roast * Gun Raffle * Running Deer Shoot * Skeet Shoot * Club Christmas Party
Club Work Day – A Great Start!
Saturday 5/16 was the 2015 Club Work Day and the eleven members & guests did a nice job sprucing up the club grounds.
Chain Saws, Rakes, Ladders & Leaf Blowers were the weapons of choice for the day.  The work crew raked and removed debris from the picnic area and clubhouse area and cut down dead trees and branches.  Branches, Picnic Tables and Tree Trimmings were removed.  Trees were trimmed at the firing range to continue the clean up that Romeo had done last week.  Gayle Polianites filled in some of the mud season ruts in the driveway that we've been busting our ankles on.  Lou P. got the water turned on for the year.  We have a sizeable wood deposit in the fireplace area that promises to be one heck of a bonfire (if we can ever get the burn permits).
Many thanks to the workers that made this day a success: Romeo & Sandra Fortin, Lou and Gayle Polianites, Bill Surette, Kevin Mohan, Jonathon Kerns, Leesa Joiner, Rick West, Clinton Staples and Neil Wright.  The club grounds are standing tall.
If you missed the work day and still need to address your six hour volunteer time – please contact Neil Wright at nwright@maine.rr.com or Lou P. at trailsend@metrocat.net   We still have chores that need to be addressed.  See you at the next club meeting!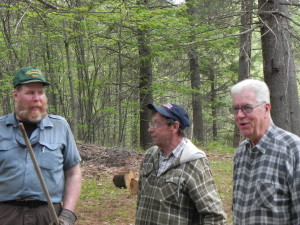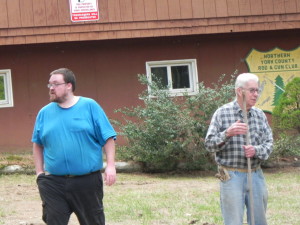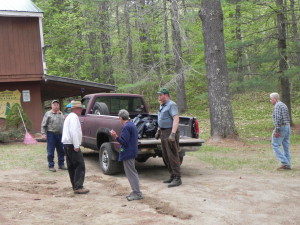 Map and Compass Course:
On Saturday April 18th, 2 members and 7 guests participated in Map & Compass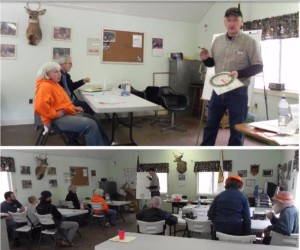 Training conducted by David Duguay at the NYCRGC clubhouse on Lewis Hill Rd, West Newfield. Components of the course included: parts of the compass, Magnetic North/True North/Declination, How to use a compass (and only a compass) to enter and leave the woods, topographic map symbols and use &using the map and compass together. David provided hands on exercises to practice new skills learned. As an added bonus, as students arrived at the parking lot, David demonstrated how to locate True North using just a stick, the sun and a little patience.    Students ranged in age from 10 to 60, and everyone had a good time and learned a lot.  THANK YOU DAVID!
Please read the range rules: Range Rules
2015 Ice Fishing Derby Winners 
Overall Winner          Corey Sanborne        Parsonsfield
Kids Division #1        Angel Gagne               Waterboro
Kids Division #2        Ronan Benson           Waterboro
Kids Division #3        Alex Giebarowski      Sanford
50/50                             Kevin Wedgewood       Limerick
Read about the Fishing Derby HERE 
  Recently the Northern York County Rod & Gun Club received donations from Beadle's Bait & Tackle, and from club member Tim Barrett of Newfield. We as a club would like to thank Beadle and Tim very much for their generous donations that help us bring fun and interesting programs to the community.
Check out the upcoming events in the sidebar!
~~~~~~~~~~~~~~~~~~~~~~~~~~~~~~~~~~~~~~~~~~~~~~~~~~~~~~~
All members must fill out a membership renewal form each year.
Click to download and print membership renewal form.
~~~~~~~~~~~~~~~~~~~~~~~~~~~~~~~~~~~~~~~~~~~~~~~~~~~~~~~~~~~