Northern York County Rod & Gun Club
Sad News: 

 

Long time club president, Lou Polianites passed away last month after being ill.  He will be greatly missed.  
** The Annual Club raffle is Cash prizes $1000, $500, $250, $100 and $50.  The winners will drawn at the club Christmas party in December and you do not have to be present to win.
** Acton Fair August 26-29 again we will need volunteers to man the table
** Pig Roast Saturday, September 11th  $10 per person and bring a dish to share and this is open to everyone. 
Congratulations to the winners of the Christmas Raffle!
$150 Shane Lamontagne
$100 Mike Buonopane
$50 Kevin Spearman
The Club is hoping to have the next members' meeting  on June 4th, 2021
Over the summer, the club house was stained with a  bright stain, the porch was fixed and painted.  Here are some pictures that show the improvements.   There is now an area under the carport to sit in the shade during club events.
Fishing Derby 2/2020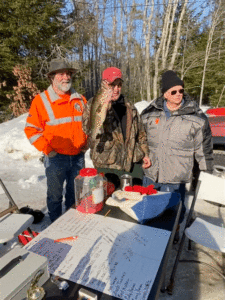 Club VP Shane Lamontagne, Keith Folger winner of the
2020 fishing Derby with a 4.4 pound fish, and Lou P. Club President.
Action Pistol Shooting Information Meetings
The club invites you to the action pistol shooting event(s). Action pistol is one of the most popular competitive handgun events. It's a fun, fast-paced and challenging game in its own right.
Come to the March 6th or April 3rd club meeting to meet the event officials, ask questions, or address any concerns of items you may be interested in. The action pistol events start in May.
Action pistol takes you beyond standing at the range shooting stationary targets. It involves drawing from a holster, sequentially shooting at multiple targets, moving targets, magazine/cylinder changes, walking, and many more different techniques, which you simply don't get to work on while standing stationary at the range shooting at stationary targets. It's average people having good safe fun. 


See video below for additional information about what to expect. 
Ice Fishing Derby –
The annual ice fishing derby will be held on February 22, 2020, from 7 am to 3 pm at Rock Haven Lake public beach.  there will be a $10 fee for all adult participants, and free for anybody under 16 years old.  Biggest fish caught gets half the entry fee, and trophies for the top 3 kids.
Membership Forms
Updated membership forms have been uploaded HERE
2020 Club Schedule is HERE
Safety improvements have been made at our skeet field range which is now open to our members.  
Berms have been made, new shooting tables and wire target stands are there to attach paper targets to.
Range is measured in 25 yard increments to 100 yards.
No wood, metal or glass targets allowed.
All club rules apply.  Be safe, enjoy the range and please take out what you bring in.  Keep your club range clean.
These pictures were taken at the club during the April 14th clean up day.  Nine people showed up to clean outside and inside the club and range.  There is a picture of our new 200 yard range which will be worked on once the grounds dries and unfreezes.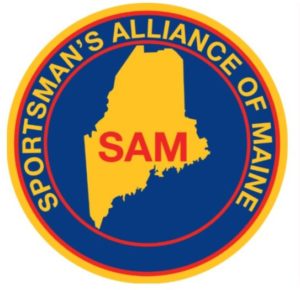 ~~~~~~~~~~~~~~~~~~~~~~~~~~~~~~~~~~~~~~~~~~~~~~~~~~~~~~~
All members must fill out a membership renewal form each year.
Click to download and print Northern York County Rod and Gun Club Membership Renewal Form_1.
~~~~~~~~~~~~~~~~~~~~~~~~~~~~~~~~~~~~~~~~~~~~~~~~~~~~~~~~~~~
Club Meetings
First Friday of every month 7:30 PM at the Club House
NYCRGC, Lewis Hill Road, PO Box 186, West Newfield, Maine 04095
Questions? Please call:
President Lou Polianites at: 793-8556
or
Sylvie Lamontagne  207-247-3053

Some of the activities we offer:The purpose of the Northern York County Rod and Gun Club is to promote the propagation and conservation of fish and game, to protect the same by prevention of pollution in the lakes and streams of the State of Maine to encourage outdoor recreation, to teach proper firearm safety, to instruct novices in the art of fishing and handling of boats and canoes, and to propose legislation conductive to the best interests of fishing and hunting in the State of Maine
Youth activities, open water fishing derbies, skeet shooting, youth shoot, hunter safety classes, ice fishing derbies
Community Involvement
Holiday food baskets,  Christmas toy collections, Acton Fair, Conservation Camp Scholarships, building rental/usage
Annual Events
Auction * Pig Roast * Gun Raffle * Running Deer Shoot * Skeet Shoot * Club Christmas Party